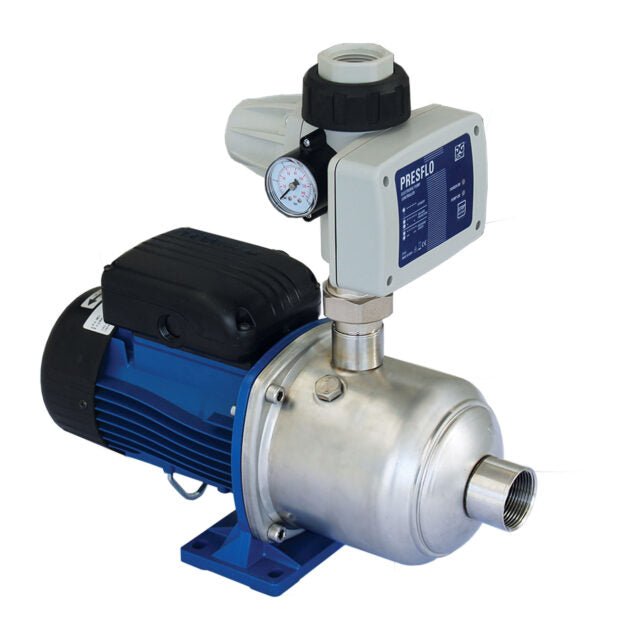 The e-HM series is a modern, robust designed horizontal multistage centrifugal pump

The e-HM series is a modern, robust designed pump offering:
State-of-the-art hydraulics with best-in class efficiency combined with IE3 motors mean the lowest possible operating costs.
Thick sheet metal casing, high-quality bearings and stainless steel guarantees a long service life.
High-efficiency hydraulics, motor and thick sheet metal pump body keep the noise level to a minimum.
Lowara 3HM04P Pump High efficiency pump with electronic pump controller / pressure tank
A single-phase pump with electronic pump controller / Pressure tank and Pressure switch. Can be used in residential, commercial, irrigation and agriculture market sectors for the below applications. 
Domestic water pressure systems
Residential & Commercial buildings
Water supply
Irrigation
Pressure boosting
Lowara 3HM04P Main Features
Easy to install
Trouble-free servicing
Pressure or Flow
Compact
Automatic re-set controllers
Protection against dry running and excessively frequent starts
Standard 18 litre tank and pressure switch
Lowara 3HM04P Specifications:
Delivery: up to 7 m3/h
Head: up to 70 metres
Power supply: single-phase 50 Hz
Power: 0.55 kW to 1.1 kW
Maximum operating pressure:

10 bar for all eHM's ( 8 bar for BG (M) )

Temperature of pumped liquid: 0°C to 40°C
Pump type: horizontal
Delivery in 4 - 5 working days
Delivery estimation is 4 - 5 working days, when in-stock. If you're in a rural area, it may take 1 - 2 working days longer. Large levels of stock are held. Shipping is $25 + gst to site.