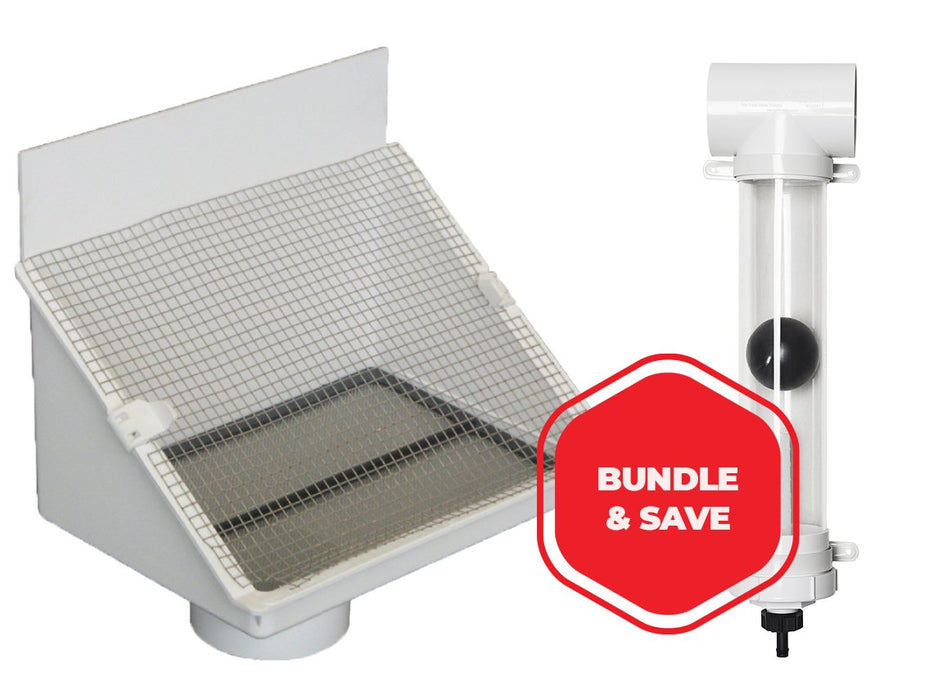 Promax Rainwater Collection Kit
Promax Rainwater Collection Kit
Bundle and Save! Cleaner Water to Your Tank 
Our Accessory Bundles are an easier, and cheaper way of purchasing the accessories you need to help you get the very best out of your water tank. This kit consists of two Promax products designed to deliver cleaner rainwater to your tank: the Leaf Eater Rain Head and the 90mm First Flush Diverter Kit.  
The Leaf Eater fits into your downpipe system and is the first line of defence in stopping larger debris like leaves and branches from getting into your tank. The primary 6 mm mesh screen keeps the bigger stuff out, and it's backed up with an insect-proof 0.995mm secondary screen to deal with the tiny critters.  
The First Flush Diverter Kit can be thought of as the second line of defence in keeping unwanted matter out of your tank.   It enhances rainwater quality by diverting the most contaminated water that washes off your roof with the first few millimetres of rainfall. The kit includes a T junction, ball and drip-drainer, with the first flush diverter easily installed on walls, posts, stands or even under your eaves. Simply add a customised length of pipe (not included) to divert your desired volume of dirty and contaminated water away from each downpipe.  
This kits includes:
Leaf Eater Rain Head
90mm First Flush Diverter Kit
Shipping: This can be delivered free to your local Mainfreight depot.