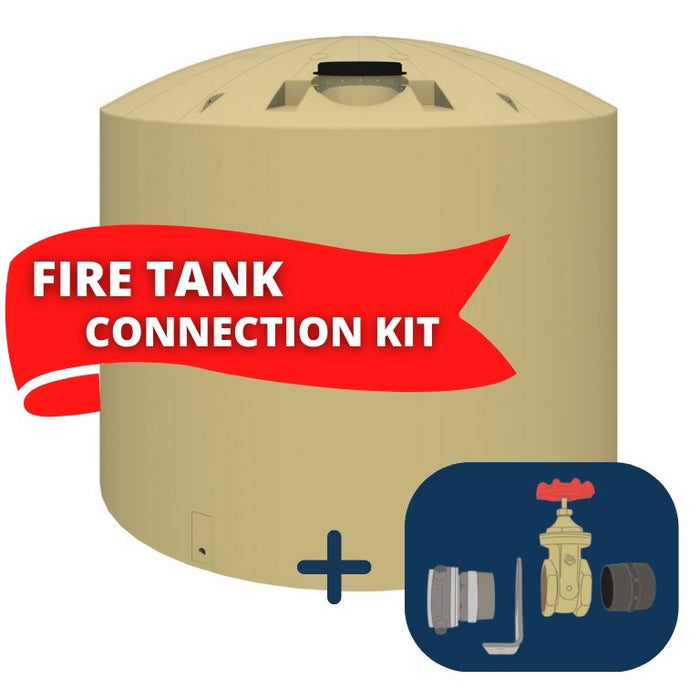 25,000L Devan Heavy Duty Fire Tank & Basic Connection Kit
Need A Water Tank with Fire Fighting Capabilities? 
Devan 25,000L Heavy Duty Fire Plastic Water Tank & Basic Connection Kit
North & South Island model: 3500mm (d) x 3000mm (h), 475kg

If you do not need a 25,000L water tank with fire fighting capabilities, checkout the standard Devan 25,000L Plastic Water Tank.
20 Year Full Warranty & FREE Shipping
Devan Tanks offers a no-nonsense 20-year product warranty on all domestic use water tanks. This is NOT a pro-rata warranty, if the tank is affected by a manufacturing fault the tank will be either repaired or replaced with a brand new tank.
Devan tanks are the only tank that comes with brass moulded outlets. Having metal outlets allows for easy plumbing that is solid and eliminates any risk of cross-threading. Better yet, the big tanks come with two of them as standard!
The unique Devan space frame provides for maximum strength in the dome of your tank which means it won't pop in when you are installing or servicing your tank nor will snow loading have an effect. Devan Tanks come vented for domestic use as standard. Suctioned domes are the number one cause of failure with water tanks and this built-in feature, combined with the Devan vented overflow kits (optional extra), will eliminate this issue for Devan tank owners.
Features & Benefits of Devan 10,000L:
Full 20 Year Warranty.
Bury up to 1000mm deep with clean backfill.
Super tough dome
11 colours Click on specification or download for more information.
Full Specification:
Empty weight: 475kg

Specific gravity – max: 1.2

Max working temperature: 30ºC

Raw material type: Medium density polyethylene

Raw material standards: AS/NZS 2070 – Food contact requirements

AS/NZS4020:2005 – Potable drinking water

AS/NZS4766 Polyethylene storage tanks for water

Complying water tank standard: AS/NZS4766 Polyethylene storage tanks for water

Manhole size: 600mm (located at 6 o'clock)

Diameter: 3.5m

Overall height: 3m

Bottom of Overflow Panel: 2.5m

Overflow panels: 4 off (1, 5, 7 & 11 o'clock)

Height to dome part line: 2.29m

Outlet size: 1 x 100mm tank fitting and 1 x 50mm BSP

Maximum no. of moulded in outlets: 4

Outlet location(s) – standard: 1 & 7 o'clock

Other available locations – non standard: 5 & 11 o'clock

Lifting eyes: 4 (1, 5, 7 & 11 o'clock)
FREE Delivery To Site 
This tank will be delivered FREE to your property. 
North & South Island  - Please click here to see our delivery ETAs
*Please note, this tank will be delivered FREE to your property if on mainland NZ. If you're located on a smaller Island such as Waiheke Island, additional shipping costs may apply. 
Water Tank Documentation: