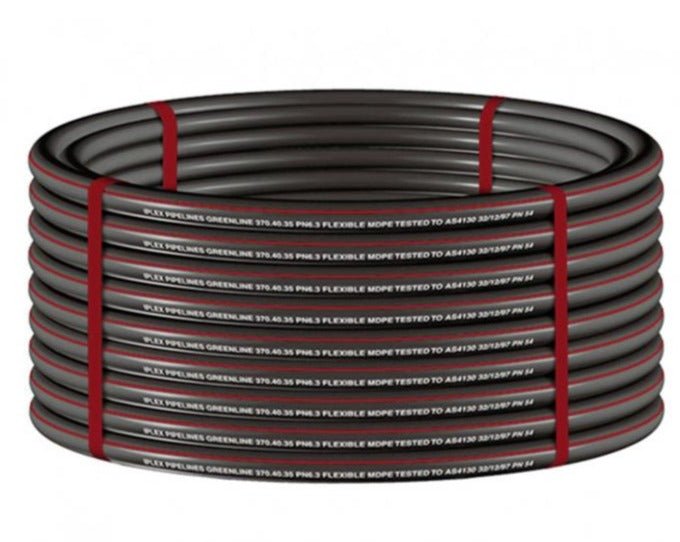 REDLINE - HPPE Pressure Pipe (20mm - 63mm)
REDLINE - HPPE Pipe - PE100
(20mm - 63mm)
Rural Water currently stocks a large size range of REDLINE™, a HPPE pipe (PE100) made from flexible PE100 high performance polyethylene. This pipe can maintain a consistent pressure rating across all sizes, it's lightweight making handling easy, yet strong and flexible. Other benefits include, large bore, red stripes for instant identification and suitable for in-line bloat treatment systems. These beneficial properties make it a popular choice for all rural and urban water supplies. 
Why choose Redline Pressure Pipe?
Superior Performance compared to other nominal sized pipes. REDLINE™ transports greater volumes of water more efficiently than either the same nominal sized HDPE or LDPE pipe.

It maintains a consistent pressure rating of 12.5 bars across a range of pipe diameters. 
S

uitable for use with in-line bloat dispensing systems.

E

asily connected to other high density (HDPE), low density (LDPE) polyethylene pipes and PVC and GWI systems using threaded fittings.

High Quality

product manufactured in New Zealand and approved by Australian & New Zealand standard. 
If you are not sure whether this product is perfect for you, contact us! Rural Water provides free expert advice, our water technicians will make sure you find the right product.
FREE DELIVERY, NORMALLY DELIVERED IN 1 - 3 BUSINESS DAYS
FREE delivery to all DEPOTS for orders over $600, FREE delivery to site for all large orders. For all small pipe orders, $100 + gst to site or $25 to depot.
If you need product urgently, please let our team know and we can talk you through your options.