FIELDAYS SALE 22 HAS NEVER BEEN SPICIER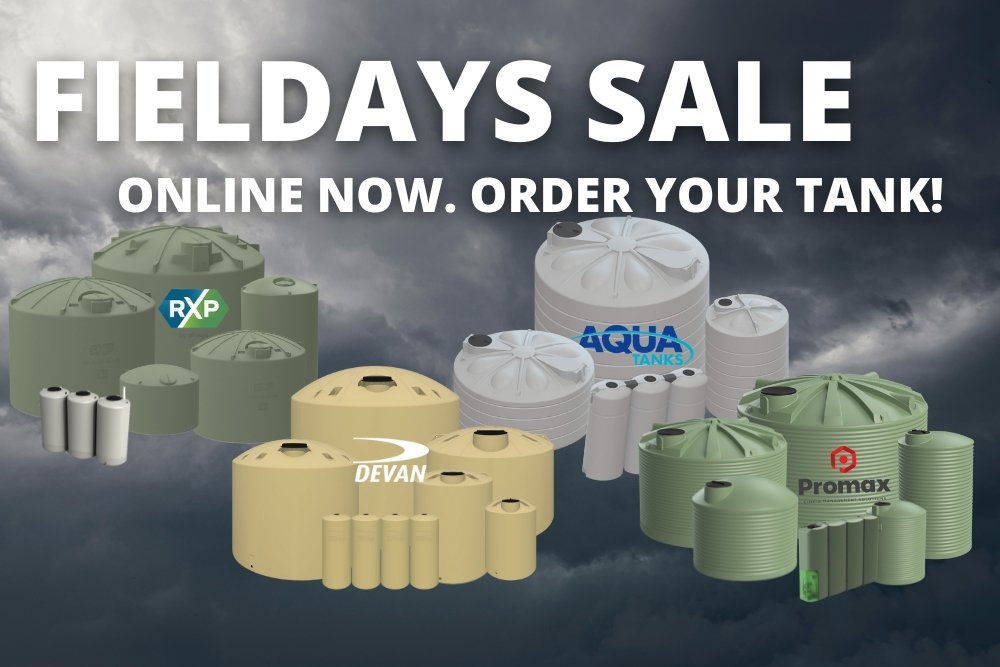 Get Access To These Hot Fieldays Tank Sales in the Comfort of your Own Home. No Need to Put on the Redbands.

The Fieldays specials have never been spicier, all the best tanks in NZ ( Devan, Promax, RX Plastics & Aqua) all have hot Fielday prices, right in time for Summer!
In the past, you've had to physically attend the Fieldays to receive these specials, not anymore! Rural Water has made it possible for everyone in NZ to have access to these hot prices, we understand many people cannot attend the event, so this is where Rural Water comes in.
Want a quote or want to talk to our Team what's the best tank for your site? Contact us! 
Our Team will talk you through your best options and provide you with the only quote in NZ that includes NZ's best tank options and highlights important factors such as delivery time frames, the depth you can bury the tank, warranties and much more!
Order your tank now to receive it before the Summer droughts kicks in and wait times are significantly pushed out with increased demand and the Christmas holidays shutting down manufacturing plants.

Please see below the breakdown of each special. For more information, ask our team.

EXCLUSIVE RURAL WATER X PROMAX FIELDAYS OFFER:

North Island - 3 weeks delivery time frame.
South Island - 9 weeks delivery time frame (including Christmas manufacturing plant shutdown)
North Island Only - all tanks 4 weeks delivery time frame. 
North Island - 6 - 8 weeks delivery ETA
South Island - 8 weeks delivery ETA

**ALL PRICES EXCLUDE GST. GST will be added at checkout.**
Rural Water not only supplies the best tank brands in NZ, but we also sell NZ's largest range of pipe and culvert online, making it simple! Just a click of a few buttons and the pipe/culvert/tanks can be shipped straight to your door. It's never been easier.